院长致词 President's Message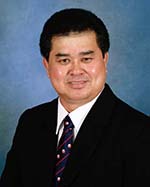 院长致词
武当城隍道教养生院,是本地第一间以"养生"为主题的机构。"养生"是道教信仰中的重要内容,也是传统文化中的宝藏。
我们成立道教养生院的目的,就是弘扬传统养生之道,推动养生文化的发展。 忙碌的都市人,大部分疲于应付各种生活压力,而忽视了最基本的身体健康。人们年轻时以健康来换金钱,年老时以金钱来换健康,这无疑是一种恶性循环。因此,我们希望大家在繁忙的工作之余,能够学习一点养生的方法来保健身体,借以提升我们的生活质量,远离疾病、伤痛和亚健康。
武当城隍道教养生院将以全国人民的健康为目的,不分种族、宗教、年龄,欢迎所有人的加入。让全国人民都拥有健康的身体、愉悦的心情,是我们的奋斗目标!
President's Message
Wudang Shenghong Health Preservation Centre is the first institution in Singapore dedicated to "health perservation"-- an important Taoist belief and a rich cultural treasure. The Centre promotes traditional ways of keeping good health, and develops the culture of health preservation.
 
Nowadays, city dwellers struggle to cope with all kinds of stress, with the expense of health. It has been a common vicious cycle to exchange health for wealth at young age, only to spend the wealth for health as one ages. To break the cycle, our Centre intends to provide a platform for city dwellers to learn the ways of health preservation, in order to improve the quality of life, and stay away from diseases, injuries, and sub-health.
 
Wudang Shenghong Health Preservation Centre aims to improve the national health standard. Members from all ages, races, and religious backgrounds are welcomed. We here at the Centre will strive to improve your health, physically and mentally!
 
武当城隍道教养生院
21 Bedok North Ave 4
Singapore 489948
Tel:+65 97700879 Fax:+65 64427879